Japan is the capital of cartoon characters. You can find IRL versions of your favorite childhood friends in Tokyo, from local mascots like the lovable monster bear Kumamon to Pokemon collaborations and even a life-size Gundam for action anime lovers. Of course, you can't miss Hello Kitty and Friends from Sanrio, and now you can sleep in your very own Hello Kitty-themed hotel room in Asakusa.
The newly opened Asakusa Tobu Hotel, just around the corner from Sensoji Temple, offers two types of Hello Kitty themed rooms. Inspired by traditional Japanese culture, these pastel pink hotel rooms are perfect for a girls night out.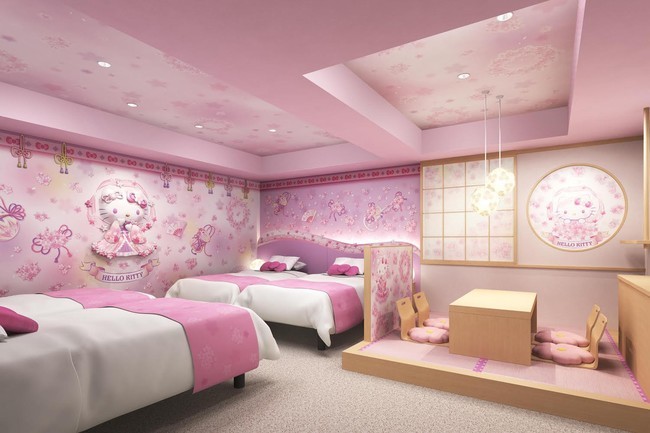 The room at the Sakura Tennyo hotel is adorned with cherry blossom pink tones. Hello Kitty, transformed into tennyo (a kind of Japanese Buddhist fairy), watches over the four beds and protects while you sleep. This girly room also has a zashiki Tatami mat seating area, complementing the traditional Japanese aesthetic.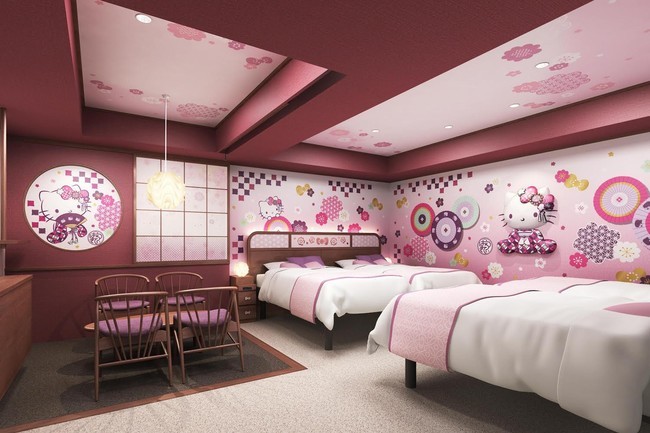 For a modern touch, the Wa-Modern Hotel Room combines sleek Western flair with a traditional Japanese sensibility, resulting in a bedroom decorated in brown with Hello Kitty in a trendy kimono. The darker colors and more elegant setup here make the Wa-Modern room less fairy-tale and more mature than the Sakura Tennyo room.
Hello Kitty Hotel rooms open on October 8 and reservations begin August 24 at 10 a.m. on Tobu Asakusa's website. Up to four people can stay in each room. There are only six Hello Kitty rooms, three Sakura Tennyo, and three Wa-Modern, so be sure to book early. Pricing hasn't been announced yet, but it likely won't be cheap.
Do you prefer hot noodles to anthropomorphic cats? Reserve this ramen-themed hotel room in Sapporo until September 30.
Check out our guide to getting out safely in Tokyo.
No more news
These 16 Tokyo Hotels Offer Local Residents Up To 50% Off
Marie Kondo has some tips for revamping your work at home routine
See all of Japan's 47 prefectures in 130 seconds via this awesome sightseeing video
Shinjuku has a new community art park with a 7-meter sculpture
Sushi Saito and Nanzuka Art Gallery have teamed up to open new restaurant in Tokyo