We've done enough roundups of winter foods lately: the best hot pots, the best comfort foods, and even the best soup list we've done in the last year. OK OK. You know where I'm coming from. Yes. After much expectation and request, here is Urban Matter's latest Ultimate Chicago Ramen Guide, fresh off the press. Log on to Doordash or get ready to go, because it's the only list you'll need to find the best ramen shops in Chicago.
PS: The drive goes loosely from North to South through the city. It's not ordered based on their quality! Try a few different places, until you find one that speaks to you!
1217 W Devon Ave, Chicago, IL 60660
Mura Mura was my favorite when I lived near Edgewater. They may not have a fancy website or huge social media, but their ramens are solid. If you want to try authentic Japanese flavors, try their Black Ramen. For those who aren't as good with the taste of garlic, or prefer something more classic, they also have excellent Tonkotsu and Miso. Finally, the Habanero Miso is designed for anyone in desperate need of a kick on the taste buds.
1131 W Bryn Mawr Ave, Chicago, IL 60660
There are several reasons why Blowfish is one of the best ramen bars in Chicago. Their black garlic tonkatsu and spicy roasted garlic miso are my favorites, and it's always fun to choose a new thing or two from their long list of appetizers. But the main reason I love Blowfish is because of their sake list. If you also think pairing ramen and sake the right way is an art form, you're sure to love Blowfish!
4926 N Broadway, Chicago, IL 60640
RAKKAN may be new to the Chicago ramen scene, their unique brand image of preparing healthy, positive and happy food has quickly connected with many Chicago foodies. As one of Japan's top 100 ramen shops and the winner of many other ramen awards from its home country, true ramen lovers would not find the name RAKKAN unfamiliar. Bringing the traditional Umami flavor to Chicago with an innovative twist, plus offering vegan options, RAKKAN will soon become your new favorite ramen bar in Chicago.
multiple locations
With three locations in Chicago, Strings is a sure bet when you're craving ramen. Personally, I think their broth is a little saltier than the other places listed here. However, they have the best spicy ramen in Chicago! Choose your spice level or try their Monster Hell challenge. You can also order their Hell Hot sauce separately and recreate the flavor at home!
604 W Belmont Avenue, Chicago, IL 60657
Ramen Kameya is a bit hidden, but will keep you coming back. If you like innovative ramen that goes beyond chashu and bamboo shoots, you should come here for sure. My favorite is their Katsu ramen – it literally has a whole fried pork chop as a topping. They also have amazing dumplings! Don't judge me, but I sometimes throw some in my ramen.
553 W Diversey Pkwy, Chicago, IL 60614
If you like those upscale ramen bars you see in J-dramas, you'll enjoy Tanaka's vibe and interior. They also have really tasty chicken ramen, so if you've never found a good ramen bar in Chicago with strong chicken broth, this is your place. Tanaka also offers a bunch of non-alcoholic Japanese drinks. Try Royal Milk Tea or Wasabi Ginger Ale if you want something different.
2101 N Milwaukee Ave, Chicago, IL 60647
Established in 2010, Wasabi has been the "secret gem" among local and non-local customers in Chicago's newest destination. Wasabi is one of the few Japanese-owned Japanese restaurants in Chicago that offers a full range of traditional and contemporary Japanese cuisine to provide a uniquely Japanese dining experience. Treat yourself to Izakaya-style small plates and the most authentic Japanese ramen with a pork bone broth boiling hot for days, topped with the freshest, highest quality ingredients.
1482 N Milwaukee Ave, Chicago, IL 60622
Kizuki is one of my new personal favorites. Specifically, their creamy garlicky tonkotsu ramen is my favorite whenever I'm in the neighborhood. For those who prefer a lighter broth, I highly recommend the Yuzu Shio and the Classic Shio. And don't forget: they also have a good list of whisky, sake and beer!
59 W Hubbard St #2, Chicago, IL 60654
The best thing about Ramen-San is that they have gluten free ramen. If you have a gluten-intolerant friend, take them to Ramen-San and drag them down the endless ramen rabbit hole! Other than that, many would agree with me that Ramen-San is one of the best ramen bars in Chicago. The pork belly is always solid, the broth is great, the noodles are perfectly cooked, plus they have the best Japanese cocktails as far as ramen spots go!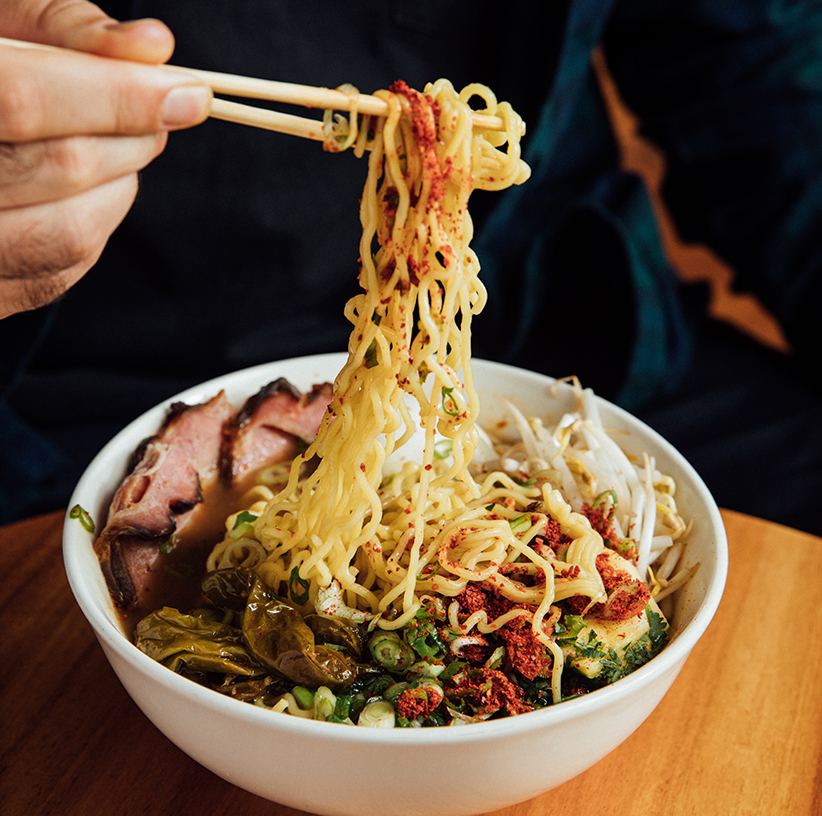 916 W Fulton Market, Chicago, IL 60607
If it's Bill Kim, fine. Winter time and a visit to Time Out Market means Bill Kim's Ramen Bar for many of us. Originally launched as a delivery-only concept, Bill Kim Ramen Bar specializes in Korean, Vietnamese and Mexican flavored broths topped with a creative range of toppings. Whether you're looking for a flawless bowl of traditional ramen or something a little more adventurous, Kim has something you can enjoy by the spoonful.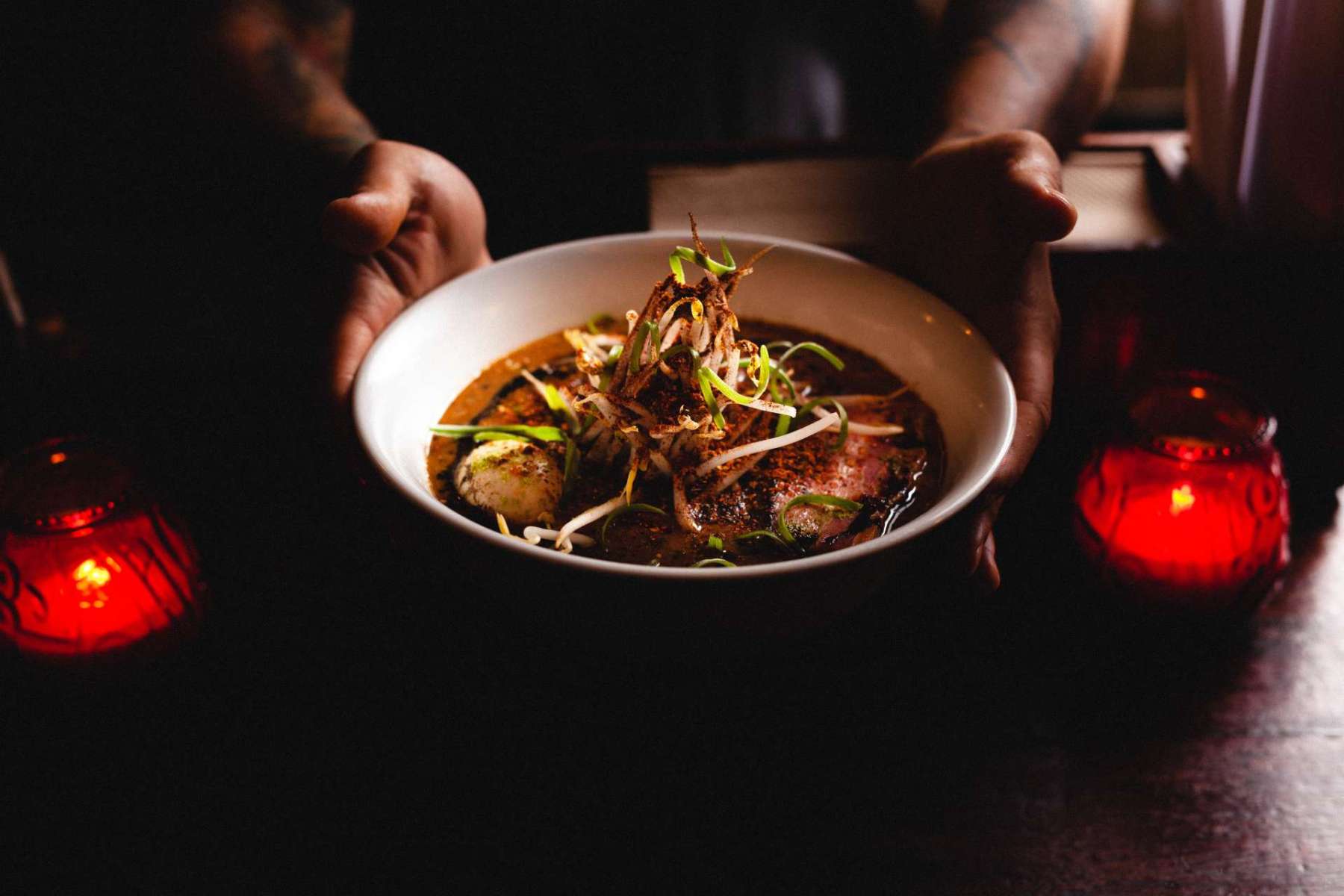 112 N Green St, Chicago, IL 60607
That's how High Five describes itself: an "updated ramen outlet, Japanese beer, and gooey cocktails in a hip basement with limited seating." If you're looking for a ramen bar in Chicago that offers a completely different experience, check out High Five. Cool atmosphere, funky music and solid ramen. Nothing else needs to be said.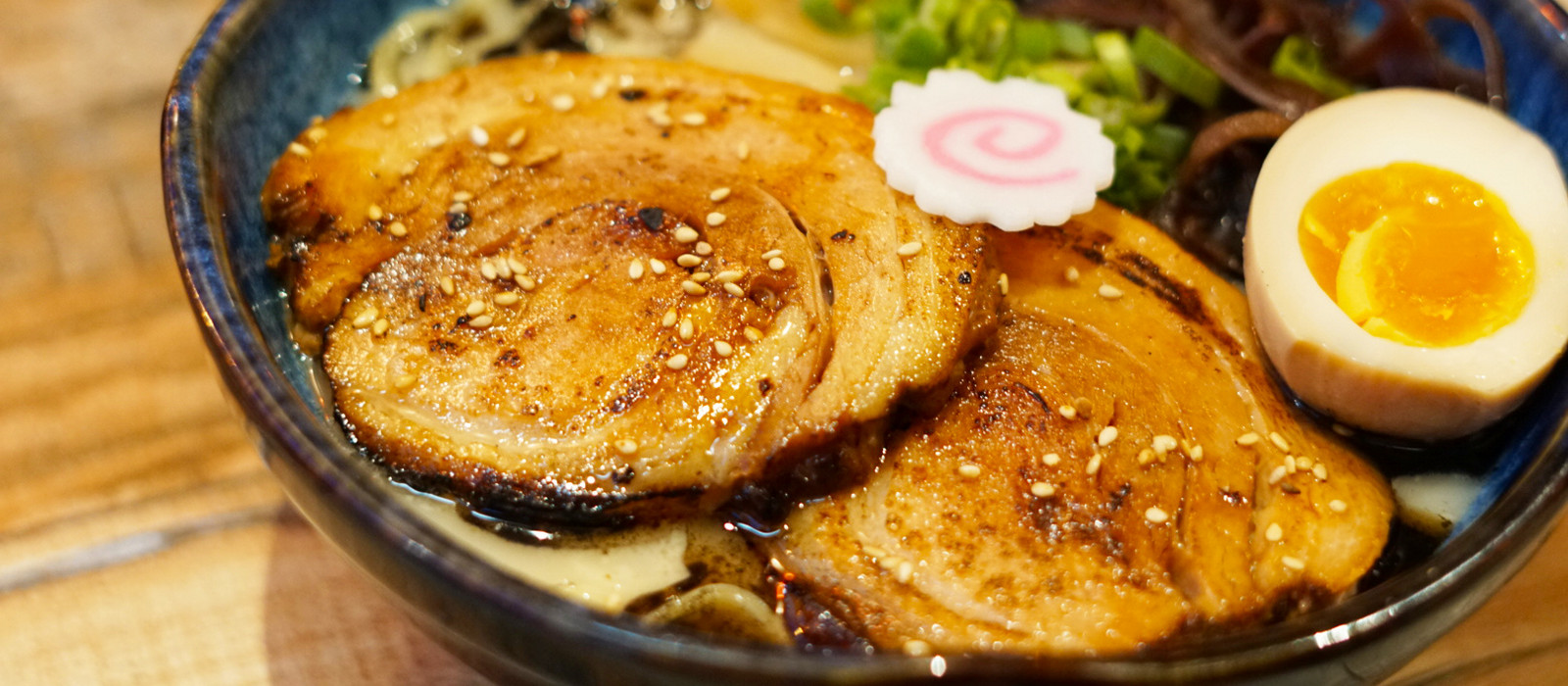 3240 S Halsted St, Chicago, IL 60608
Shinya = Midnight =… Yes. If you are a big fan of Midnight Diner series, you must visit Shinya Ramen House. Open from 5:00 p.m. until 1:30 a.m., it's the perfect place if you've had to work overtime and need a place to decompress and enjoy a nice hot bowl. With 13 different ramen flavors, including Sapporo Spicy Miso Ramen, Tomato Vegetable Ramen and Curry Chicken Ramen, as well as an extremely comprehensive list of Japanese grills and appetizers, Shinya is definitely a hidden haven for ramen lovers and of Japanese cuisine.
Featured Image: Wasabi Ramen